La agencia de eventos Miss Lemon Brand se une a nuestro Portfolio Ecommerce, con un sitio web corporativo y tienda online desarrollado en WordPress.
En este proyecto, se desarrolló una estrategia de branding, con el diseño del nuevo logo y enfocada sobre todo en el marketing de contenidos.
Los principales objetivos fijados para el proyecto fueron la creación de una página clara e intuitiva que permitiera una mejor experiencia de usuario, mejorar la visibilidad por medio del branding y aumentar la tasa de conversión en la tienda online.
Structure of the website
Miss Lemon Brand es una agencia de eventos que se ocupa de todo. Desde el diseño de la actividad y el desarrollo visual, hasta la planificación Social Media, la campaña de marketing y comunicación, la dirección y coordinación del evento… incluyendo la elección de materiales, diseños y planos, creación de piezas si fuesen necesarias, montaje y desmontaje de escenarios, etc.
Cuentan con excelentes profesionales del sector, y una eficiencia demostrada en numerosas actividades ejecutadas en todo el archipiélago. Han llevado a cabo la dirección y coordinación de importantes eventos en la isla de Tenerife.
La prioridad era crear una web que facilitara la navegación a través de las diferentes categorías de productos, simplificando los pasos para llegar hasta los productos.
La página de inicio es el escaparate principal del sitio web. Donde se presentan los servicios, valores y factores que diferencian a Miss Lemon Brand.
Navigation menu
El menú de navegación cuenta con los primeros enlaces a Inicio – Quienes somos – Servicios – Contacta. Donde aporta la información acerca de la empresa y los servicios que ofrece. Y el otro enlace de la página que puede ser de interés para los usuarios ya que, aporta información de valor, es el apartado de: Blog.
Además, en él se puede encontrar el carrito de compra con el objetivo de que esté disponible en todo momento, independientemente de la página que se está visitando.
Responsive design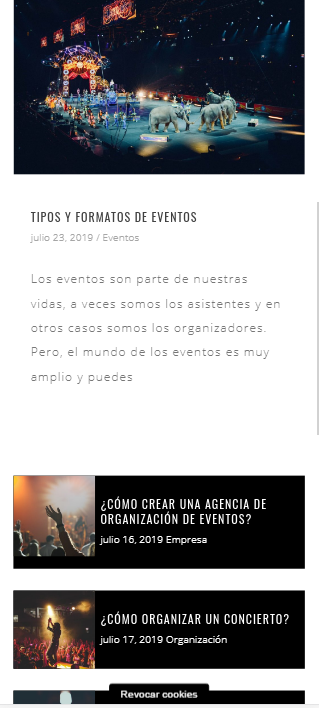 El diseño es responsive, facilitando la navegación en todos los dispositivos.
Integra el manual de marca de la empresa donde se reflejó el logo, las fuentes y colores corporativos, apoyando la estrategia de branding.
La experiencia visual a lo largo de la tienda siguen lo definido en el manual de marca.
Espacio de Blog
La manera más sencilla de invertir en marketing de contenidos es mantener un blog corporativo. Es una vía directa para comunicar noticias e información de valor para los usuarios.
Por eso, Miss Lemon Brand cuenta con un blog. El cual ofrece información útil al visitante y relacionada con los productos y soluciones que ofrece la web.
The publications are ordered chronologically.
Otro elemento a destacar es la posibilidad de hacer búsquedas a través de un campo de formulario. Donde el usuario puede especificar los criterios de búsqueda.