¿Que es PrestaShop?
Prestashop es un Software e-Commerce (tienda online) que ayuda a las empresas a vender por Internet. Con una tienda online propia, sin depender de terceros y con una plataforma completa que dispone de las mejores herramientas para administrar la tienda a diario.

Es una solución de venta online completa, evolutiva y adaptable. PrestaShop se inició con un modelo de código abierto Opensource. Esto que permite a cada usuario modificar el software según sus necesidades. PrestaShop se enriquece año a año con nuevas funcionalidades y servicios.

¿Por qué usar PrestaShop para mi negocio online?
Se trata de un Software con una características que lo hacen muy completo, potente y sobretodo fiable. La mayoría de tiendas online son tiendas hechas en PrestaShop. Los motivos son los siguientes:
E-commerce muy completo: El sistema es bastante amplio. Una aplicación muy completa con la cual puedes realizar todo lo que pienses que necesitas administrar una tienda online desde su instalación inicial.
Personalización del diseño: Una de las ventajas que más atraen de las tiendas Prestashop es su integración de diseños, los llamados temas Prestashop o themes Prestashop, con los cuales dispondrás de una tienda online casi personalizada y orientada a tu negocio.
Sistema modular

:

Su sistema modular hace que cualquier complemento que se necesite esté a fácil acceso y a un precio muy económico.
Funcionalidades Todas las funcionalidades son 100% gratis, instalables en un solo clic, y a través de ellas podrás realizar todo tipo de gestiones con tu catálogo de productos y categorias, pedidos, clientes, etc. Prestashop cuenta con más de 300 funcionalidades. Para ayudarte a vender más y poder gestionar tu tienda de la forma más eficiente posible.
Recomendamos su instalación para cualquier tipo de empresa que necesite una herramienta rápida y que busquen un buen posicionamiento natural. Actualmente cuenta con una comunidad de más de 250.000 usuarios y sigue creciendo muy rápido. A día de hoy a duplicado los usuarios en poco tiempo.

¿Quieres vender online? Rellena este cuestionario y te recomendamos el mejor producto para que puedas publicar tu canal digital de ventas cuanto antes.




Tiendas online en PrestaShop
Carrefour Essentials – Servicios de suscripción a domicilio
Carrefour Francia acaba de anunciar el lanzamiento de Essentials. Consiste en paquetes preparados previamente que contienen productos esenciales de alimentación. El distribuidor está utilizando un sistema de suscripción para simplificar el proceso para los clientes y asegurar sus suministros.
Es un ecommerce con entrega a domicilio, por el momento reservado solo para los parisinos, desde un sitio dedicado, desarrollado sobre PrestaShop essential.carrefour.fr
Esta iniciativa facilita la compra de alimentos en estas semanas de confinamiento.

Tweet del primer pedido recibido, publicado por Amélie Oudéa-Castéra, Head of e-commerce, data and digital del Grupo Carrefour

Le premier unboxing clients d'Essentiels ! Les commandes de commencent à être livrées ce matin à Paris ➡️ https://t.co/wiCSwYqm7o pic.twitter.com/LCjdm1Lzs3

— Amélie Oudéa-Castéra (@AOC1978) March 23, 2020
→ BIMBA Y LOLA
Bimba y Lola fundada en 2005 por Uxía y María Domínguez. Con la idea de crear una marca diferente y optimista, que proponga una experiencia más allá del mundo de la moda; una marca inspirada por la vida, el mundo, el arte y el diseño para proponer algo propio: el mundo Bimba y Lola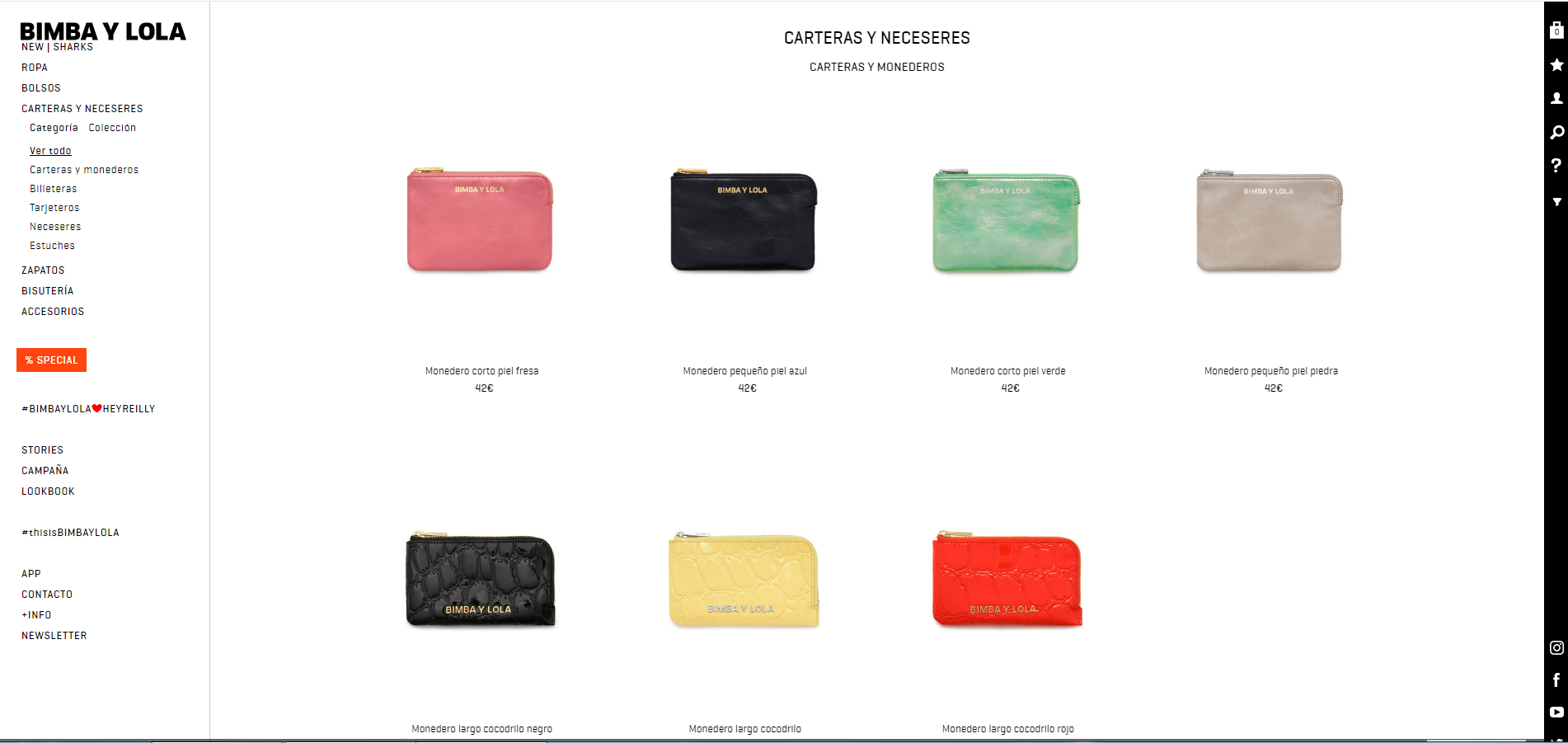 → MUSEO DEL PRADO
Tienda Prado es la tienda oficial del Museo del Prado. Todos los productos del Museo del Prado están diseñados exclusivamente.
Los ingresos de las ventas en línea contribuyen directamente la conservación y difusión del patrimonio artístico del Museo del Prado.

→ HEADICT
Se trata de una tienda online del mejor headwear. Con una gran selección de gorras, sombreros, gorros de casi más de 100 marcas, desde las más famosas y conocidas a las más confidenciales. Puedes diseñar tu propio gorro.

→ MCDONDALDS FR
McDonald's es un gigante en el negocio de comida rápida. Siendo una marca de fama mundial, el logotipo que cualquier adulto y niño saben, la compañía confía en la plataforma Prestashop para la versión en francés del sitio para proporcionar suministros de comercio electrónico. De hecho, la variedad de artículos representados en la tienda web no es tan grande, es por eso que en este caso, Prestashop se considera una opción perfecta que puede adaptarse a las necesidades del cliente.

→ MAPTITECULOTTE
Ma P'tite Culotte es una amada marca de lencería de lujo que crea artículos innovadores y originales. Los cuales satisfacen las necesidades de cualquier mujer en todo el mundo. La marca está tratando de ganar afectos populares al brindar excelentes servicios. La tienda web se basa en Prestashop para garantizar a los clientes una excelente experiencia de compra.

Crea tu propio negocio online con PrestaShop
¿Necesitas una plataforma de ecommerce (tienda online) lo suficientemente potente para tu ERP? PRESTASHOP es el software de tiendas online que permite a tu negocio vender mas y mejor a través de Internet.
<<Y si lo que quieres realmente es poder conectar tu Ecommerce con tu ERP, tenemos la solución perfecta para ello: CONECTA SHOP es lo que necesitas>>

[addthis tool=addthis_recommended_vertical]