El periódico digital Noticias 8 islas se une a nuestro Portfolio Ecommerce, con un sitio web corporativo diseñado en WordPress.
En este proyecto, se desarrolló una estrategia de branding, con el diseño del nuevo logo y enfocada sobre todo en la facilidad de acceso a las noticias.
Los objetivos principales que se fijaron para este proyecto, fueron crear un periódico útil e intuitivo en el que los lectores tengan la mejor experiencia de usuario, mejorando la visibilidad por medio del branding.
Structure of the website
El proyecto de Noticias 8 Islas es un periódico digital nacido en 2019 con la intención de ser un vehículo para transmitir información, conocimiento y entretenimiento llamando al lector a la reflexión con sentido crítico.
Una forma de transmitir las noticias al archipiélago canario.
Navigation menu

El menú de navegación cuenta con los primeros enlaces a Inicio – Mi isla – Canarias. Donde aporta la información y noticias correspondientes a cada una de las categorías.
Además tenemos el apartado de Agenda donde podemos encontrar los eventos culturales, institucionales y deportivos que se van a realizar en Canarias.
Y por último tenemos un apartado de Opinión, donde podemos encontrar noticias de opinión personal.
Responsive design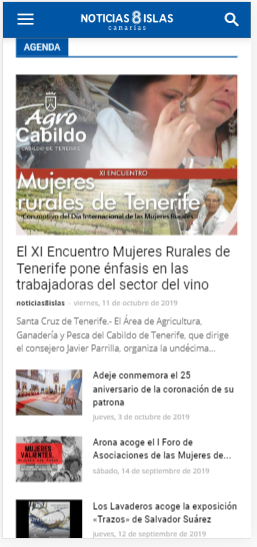 La web tiene un diseño responsive, facilitando la navegación en todos los dispositivos.
Integra el manual de marca de la empresa donde se reflejó el logo, las fuentes y colores corporativos, apoyando la estrategia de branding.
La experiencia visual a lo largo de la página siguen lo definido en el manual de marca.