We added the company Malditos Bichos to our Ecommerce Portfolio. This is an ecommerce project in which we have developed an online store with the best current technology in terms of development: Prestashop
For this project, a number of objectives were set, which were
Create a clear and intuitive website that allows for the best user experience

Increase the conversion rate of the online shop

Improve and increase visibility through branding.
Structure of the website
Malditos Bichos is a company dedicated to the supply of agricultural and phytosanitary products, offering the best for the world of agriculture and gardening. They have the necessary products for the control of plagues, diseases and in addition, with the best and more qualified equipment for the advising
The priority of the project was the creation of a website that would allow and facilitate navigation through the different categories of products it markets. Besides simplifying as much as possible the steps to reach the products.We offer a service with total seriousness and professionalism, both in the relationship with our suppliers and with our customers, and we always aim to provide the highest quality in our products.
So it has more than 6 categories among which are: plant protection, pest control, fertilizers, accessories, seeds, biological control and pollinators.
In addition, access to the customer area is also included for all those users who are already registered. In addition, contact information is provided from the beginning to make it easier for users to contact the company at the time.
Navigation menu

The navigation menu has the first links to sites like: Home where the information about the products is provided. In addition we can observe other sections that contribute information to the user and therefore they are of interest for the same as: contact or on us.
Another element to highlight is the possibility to search through a form field, where the user can specify what he is looking for.
Responsive design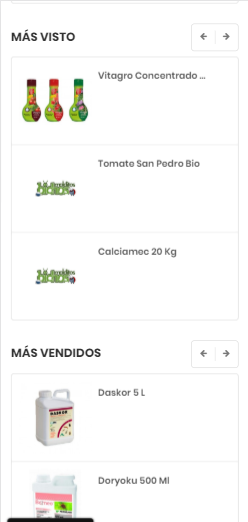 This project has been developed under the concept of responsive design which facilitates navigation in all types of devices.
The main Sliders were designed with the intention of visually communicating the philosophy of the company and the main services they offer.
For this project, a responsive design has been chosen that facilitates navigation on all devices. The visual experience throughout the store follows what is defined in the brand manual.
Technological features
Prestashop
---
This online store has been developed as we discussed about PrestaShop technology