JJC Software se une a nuestro Portfolio Ecommerce, con su proyecto de sitio web corporativo desarrollado en WordPress
En este proyecto, se desarrolló una estrategia de branding, con el diseño del nuevo logo y enfocada sobre todo en el marketing de contenidos.
Los principales objetivos fijados para el proyecto fueron:
En primer lugar, la creación de una página clara e intuitiva que permitiera una mejor experiencia de usuario.
Segundo, mejorar la visibilidad por medio del branding.
Structure of the website
JJC Software es una empresa de consultoría española del sector tecnológico que presta servicios profesionales a las pequeñas y medianas empresas, ofrecen servicios y soluciones integrales en el ámbito de la consultoría de software de gestión empresarial y servicios informáticos.
Cuenta con un equipo experto y muy cualificado en la implementación de SAP Business One, una plataforma de ERP líder en el sector y especialmente diseñada para PYMES.
La prioridad era crear una web que facilitara la navegación y la información acerca del ERP.
Navigation menu
El menú de navegación cuenta con los primeros enlaces a »SAP Business One», »Movilidad» y »Business Inteligence» donde se aporta información acerca de la empresa y los servicios que ofrece y los demás enlaces están destinadosa páginas que pueden ser de interés para los usuarios ya que, aportan información de valor, como es el apartado de: »Nosotros», "Blog" y "Contacto".
Se integran el enlace al perfil profesional de Linkedin. Los canales de comunicación por email y teléfono también se mantienen visibles en este espacio destacado.
Responsive design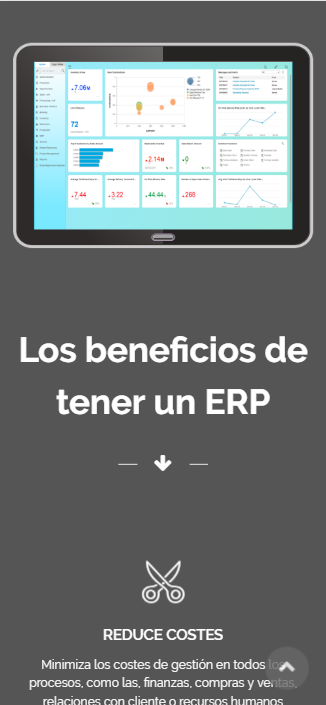 Para este proyecto, se ha elegido un diseño responsive que facilita la navegación en todos los dispositivos.
Por lo que se desarrolló un manual de marca donde se reflejó el logo, las fuentes y colores corporativos.
La experiencia visual a lo largo del sitio web sigue lo definido en el manual de marca.
Los Sliders principales se diseñaron para comunicar de manera visual y atractiva la filosofía de la empresa y las principal marca que ofrecen.
Espacio de Blog
El sitio web cuenta con un blog, que ofrecerá información útil al visitante, relacionada con las soluciones que ofrece la web. La manera más sencilla de invertir en marketing de contenidos es mantener un blog corporativo. Es una vía directa para comunicar noticias e información de valor para los usuarios.
Las publicaciones se ordenan de forma cronológicamente y descendiente par que aparezcan al inicio las publicaciones más recientes.