Frutas y Verduras Erme se une a nuestro Porfolio Ecommerce. En este caso se ha llevado a cabo el desarrollo de un sitio web corporativo sobre WordPress.
Además, en este proyecto se llevó a cabo una estrategia de rebranding con el diseño de un nuevo logo, definiendo el manual de marca para una mejor identidad corporativa y enfocada sobretodo en el marketing de contenidos.
Los principales objetivos que se fijaron para este proyecto fue: la creación de una página que fuera clara e intuitiva que ofreciera la mejor experiencia de usuario (UX).
Structure of the website
---
Frutas y Verduras Erme es una empresa dedicada a la producción y distribución de frutas y verduras en Tenerife. Aunque su actividad se extiende a todas las Islas Canarias. Lo que diferencia a esta empresa es que sus frutas y verduras son cultivadas en sus propias fincas localizadas en el sur de la isla.
Además amplían sus fronteras a todas la Islas mediante una red de almacenes y servicios de transporte para realizar los repartos a todos sus clientes. El nivel de calidad y exigencia es tal que han conseguido una extensa cartera de clientes en la que se incluye tanto el sector público como privado.
La prioridad era la creación de un sitio web que facilitara la navegación a través de las diferentes variedades de productos.
En este proyecto, se llevó a cabo un proceso de rediseño de la imagen de marca, es decir, una estrategia de rebranding. Por lo que se desarrolló un manual de marca el cual se reflejó en el logo, las fuentes y colores corporativos.
"Con el rebranding se produce un cambio radical que transforma la imagen de marca para cambiar la percepción del público, basándose en la diferenciación frente a los competidores"
Navigation menu
---


En el menú de navegación podemos observar los enlaces a: Inicio – Quienes Somos – Productos y Servicios los cuales aportan la información sobre la empresa y todos los servicios que tiene disponible. Mientras que también, podemos encontrar otros enlaces a la página que pueden ser d einteres para el usuario, ya que, aportan información de valor como los apartados de: Blog – Contacto.
Otro elemento a destacar es la posibilidad de hacer búsquedas a través de un campo de formulario, donde el usuario puede especificar los criterios de búsqueda.
Responsive design
---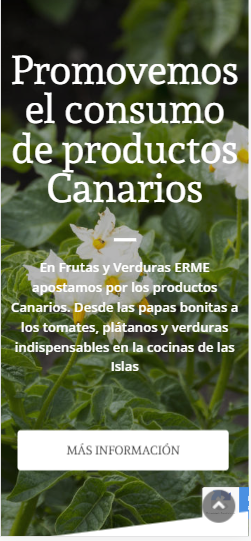 Para Frutas y Verduras Erme se ha elegido un diseño responsive el cual facilita la navegación para todos los dispositivos.
Al desarrollar el manual de marca de la empresa se reflejó el logo, las fuentes y colores corporativos, apoyando la estrategia de branding. Por lo que, la experiencia visual a lo largo de la tienda siguen lo definido en el manual de marca.
The Company Blog
---
Para conseguir una buena estrategia de marketing de contenidos lo mejor es mantener un blog corporativo. El cual sea una vía directa de comunicación con los usuarios para transmitirles información o noticias.
En este caso el blog, ofrece información útil al visitante y relacionada con el mundo de las frutas y las verduras. Con recomendaciones, tips, novedades, diferencias y muchas cosas más.
The publications are ordered chronologically.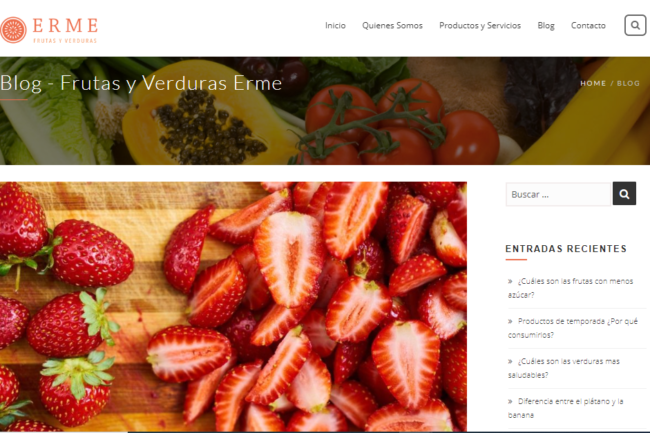 Technological features
---
This corporate website has been developed on the technology of WordPress. It is the most widespread and fastest growing web development platform today.
«The 35% Internet is built on WordPress.«
Do you want to sell online?