Celebrando los 100 años de la Bauhaus con este logo conmemorativo.
La Bauhaus cumple 100 años con este logo conmemorativo
Como ya sabemos, la Bauhaus, fue la escuela de arquitectura, diseño y arte más influyente del siglo XX. Su existencia se resume a tan solo 14 años, pero su legado es fundamental.
Por éste motivo, este año se celebra el centenario de su fundación, en Alemania.
La asociación ''Bauhaus Verbund 2019» se creó para dar vida al festival, exposiciones y otros eventos.
Además, se inaugurarán tres nuevos museos dedicados a la Bauhaus en Berlin, Dessau y Weimar.
Bauhaus 100
"Todas las personas modernas se enfrentan en su entorno con procesos, objetos y sistemas que no hubiesen sido posibles sin la forma radicalmente nueva de pensar de la Bauhaus." – Stephanie Kurz de Stan Hema.
La Bauhaus no fue «un encuentro casual de talentos y excéntricos» como muchos lo entendieron en aquel momento, sino la unión del arte y la artesanía con el diseño y la cultura con el objetivo de construir un futuro diferente.
The Bauhaus Verbund 2019 invita a todos sus colaboradores regionales, nacionales e internacionales a «redescubrir los productos de la Bauhaus y su significado en el presente y el futuro» para revivir su inmenso legado.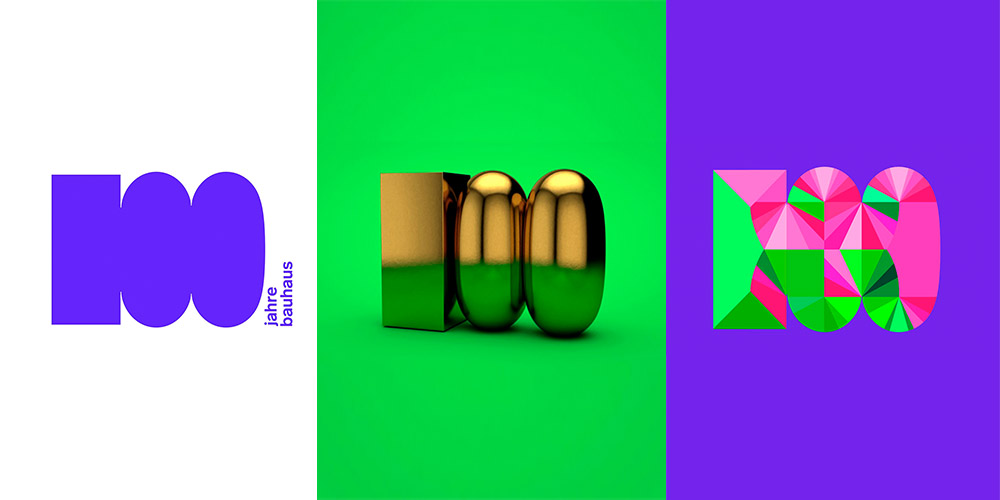 Nº 100
La identidad del evento es una identidad rotunda y clara en la que el número 100 es «el punto central del diseño» y que, con un carácter bold, se convierte en «una ventana a través de la que se puede ver el mundo».
El concepto de la ventana y la identidad cambiantes ya es conocido. Aporta contenido a la marca, la refuerza en cada una de sus expresiones y dinamiza en los entornos digitales.
No se trata de un concepto gráfico nuevo, pero sí es útil, como en este caso que la marca pretende resumir la historia de dicha institución.
Junto a ese gran número, encontramos que aparece escrito:
– Jahre Bauhaus en alemán.
– Years of Bauhaus en inglés.
Todo en minúscula, con una tipografía tan suave y sencilla que pasa desapercibida najo el número 100.
En general, es una identidad fuerte por dar protagonismo a los cien años que han pasado desde que nació la Bauhaus y también por el universo digital que se ha diseñado para acompañarla.
Pero, en resumen, lo mejor de este proyecto es que se evita hacer un 'pastiche' de la Bauhaus y lo peor, es que tiene un carácter excesivamente neutro.
<<Pastiche>>: es una técnica utilizada en literatura y otras artes,que consiste en imitar abiertamente diversos textos, estilos o autores, y combinarlos, de forma que den la impresión de ser una creación independiente.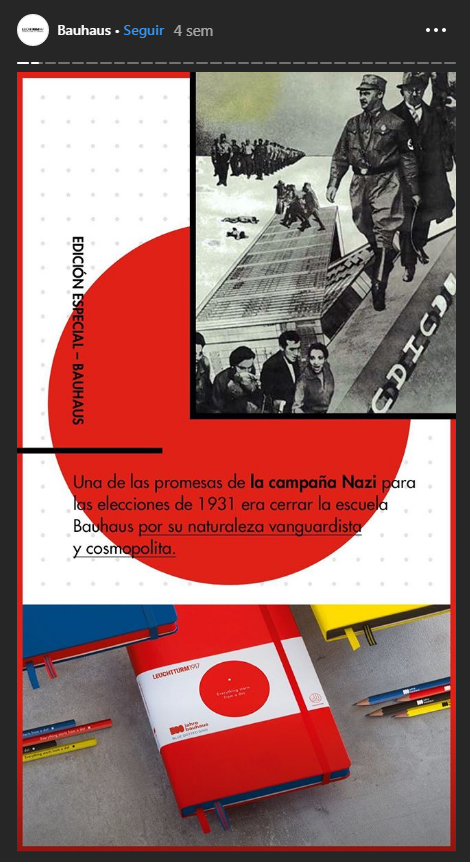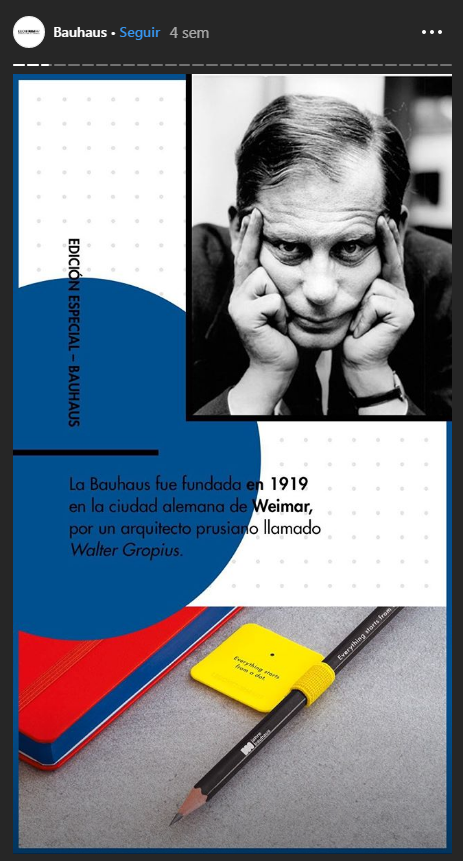 #ISeeBauhaus
Con motivo del centenario, Bauhaus ha lanzado una nueva aplicación de fotos.
La aplicación te permite compartir tu propia visión personal de Bauhaus con el mundo.
Consiste en una planta del aniversario a través de la cual se saca la fotografía.
Deberás compartir tu imagen en los muros de tus Redes Sociales con el hashtag:
#Bauhaus100
¡100 perspectivas sobre uno de los movimientos culturales más importantes del siglo XX!
La aplicación trata de acercarse a todo aquel amante de la Bauhaus y que quieran ser creativos.
Pudiendo ser tanto arquitectura, diseño, tipografía o artes visuales: los 100 grandes convierten su instantánea en un evento real.
Con el hashtag #bauhaus100 es posible compartir su perspectiva sobre el aniversario de Bauhaus con una comunidad mundial.
Es cierto que el mundo ha cambiado radicalmente desde 1919, pero no lo ha hecho la necesidad de experimentar, de romper con la política y cultura y de renovar los planteamientos estéticos. Por lo que, al ver esta identidad, queda el recuerdo de esa filosofía radical que tanto impacto tuvo y tiene en la historia del arte, el diseño y la arquitectura.